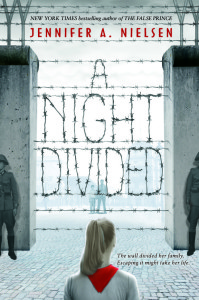 A Night Divided –  Available Now! (Scholastic)
With the rise of the Berlin Wall, twelve-year-old Gerta finds her family divided overnight. She, her mother, and her brother Fritz live on the eastern side, controlled by the Soviets. Her father and middle brother, who had gone west in search of work, cannot return home. Gerta knows it is dangerous to watch the wall, to think forbidden thoughts of freedom, yet she can't help herself. She sees the East German soldiers with their guns trained on their own citizens; she, her family, her neighbors and friends are prisoners in their own city.

But one day, while on her way to school, Gerta spots her father on a viewing platform on the western side, pantomiming a peculiar dance. Then, when she receives a mysterious drawing, Gerta puts two and two together and concludes that her father wants Gerta and Fritz to tunnel beneath the wall, out of East Berlin. However, if they are caught, the consequences will be deadly. No one can be trusted. Will Gerta and her family find their way to freedom?
Praise for A Night Divided
 —School Library Journal, starred review (audio) "This excellent work of historical fiction is suspenseful, realistic, and enthralling."

"This novel's strong setting and tense climax will keep readers engrossed and holding their breath until the last page." — School Library Journal

"As Gerta, her other brother, Fritz, and eventually their mother dig the tunnel, enduring hunger, exhaustion, and risking detection, readers will root for them with every shovelful." — Kirkus

"As the architect of her family's freedom, Gerta memorably demonstrates that survival is possible even in the bleakest of circumstances." — Publisher's Weekly

"History buffs will drool over the magnificently told tale, but even reluctant readers will become interested in the tension-filled exploits." – Voya

"I highly, highly recommend this book for all readers, full stop." – Reading Nook Reviews

"A marvelously crafted historical novel about courage, perseverance, and the will to survive. A Night Divided excels in every regard." – The Times Herald

"In one word. Terrific!!! This is a great historical fiction for readers of age 12 to about 100. An excellent description of Communist East Germany and in particular East Berlin as the Wall goes up dividing a family.  Seriously, one of the best books read thus far this year. Teachers,  if you want a book on the Cold War period, do not over look this title." — Bookies (Independent Bookstore, Denver)
* Translation rights sold in Italy.
2016-17 Tome Society List
Top 2015 Mighty Girl Books for Teen and Tweens List
2015 AML Finalist
2015 double Whitney Award winner for Best Middle Grade book and for Best Overall Youth Novel.
State List nominations: California Young Readers Award (17-18); Illinois Rebecca Caudil Award (17-18); Maine Student Book Award (16-17); Maryland Black-eyed Susan Book Award (17-18); Missouri Truman Award (17-18); Nebraska Golden Sower Award (17-18); New Hampshire Great Stone Face Award (16-17); Oregon Battle of the Books (16-17); Texas Lone Star (16-17); *South Dakota Young Adult Readers Award (16-17); *Utah Beehive Book Award (16-17); Vermont Dorothy Canfield Fisher Award (16-17); Middle School Virginia Readers Choice (17-18); Wisconsin Golden Archer Award (17-18); *Wyoming Indian paintbrush Award (16-17) *Winner
2016 ILA-CBC Children's Choices List
Foreign editions to be published in Romania (Art Grup); Italy (Giunti Editore);
One of Bookriot's "25 Great Books for Kids between Middle Grade and Young Adult."
Buy from your local bookstore when possible.  Or you can order here: