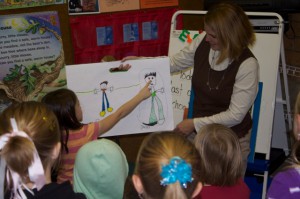 I love to do school visits, and also enjoy talking with youth, parent, or writers' groups. I'm also available for Skype visits, though it's always more fun for everyone when a live visit is possible. Please contact me for your specific group needs and see what I offer for presentations or workshops.
Some of the feedback I've received includes:
"The teachers raved about your presentation… At our assembly the next day, I asked the school if they enjoyed hearing you speak, and the cheering was tremendous."—Colin Kelly, Greenfield School, Gilbert, AZ

"Jennifer was amazing. She had those kids in a trance. They really hung on to her every word!"— Rachel Brooke, parent
If you want to book me for an author appearance, festival, conference, or Skype visit, you can coordinate this directly with Scholastic by clicking here.
If you are interested in learning more about how to obtain grants to help fund author visits, please visit here.