UPDATE: If you haven't started this series yet and want to give it a try, book 1, MARK OF THE THIEF, is on sale right on for Nook or Kindle for $1.99!
I know I've been quiet for a couple of months, but it's for good reasons – revisions, research, writing – lot of exciting stories on their way to you!
It's kept me so busy, I almost missed telling you about the release of the third and final book of the Mark of the Thief series – WRATH OF THE STORM. Due out on January 31st!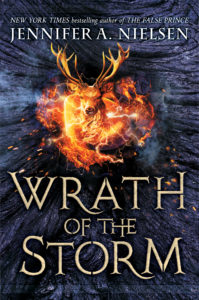 Here's the Goodreads summary:
Trouble has a way of seeking out Nicolas Calva, and it's not likely to leave him alone any time soon. With Caesar's magic bulla, the Malice of Mars, and the possibility of a Jupiter Stone in play, all the powers of Rome are circling Nic. He'll have to maneuver his way through scheming government officials and reawakened magical beasts to save the Empire. Can he manage to keep his friends and family safe, claim his own freedom once and for all, and rescue the Empire — before the magic gets the better of him?
Of all the books I've ever written, the ending to this is my favorite. I love this book, love the journey that Nic and Aurelia and Crispus have gone on, and I hope it's something you'll want to check out.
BUT, I promised a giveaway. I'm giving away five signed copies of WRATH OF THE STORM.
To enter, leave a comment below of what you have enjoyed about the Mark of the Thief series so far, OR if you have not read any of the books, why you think you might enjoy the story. You can get an idea of what it's about by watching the trailer here.
Here are the rules:
The contest begins now and ends at 2 pm EST on Sunday, January 29th.
Winners are drawn randomly. I will post the winners' names and also send an email requesting your mailing address.
If you have a copy of the book, you can make an alternate request for:
* A signed hardcover of THE SCOURGE
* A paperback of RISE OF THE WOLF
* An audiobook of A NIGHT DIVIDED
Start leaving your comments now. Good luck!
(If you don't want to wait, you can get any of these books now through Scholastic Clubs and Fairs, or you can pre-order at your favorite bookstore!)