Most people are probably not familiar with the Toronto bookstore, Mabel's Fables, but you should be! Not only is it an absolutely charming store, and not only are their store employees exceptionally knowledgeable about all things books, and you should definitely check out the gelato store right across the street. BUT ALSO, they do the most amazing window displays! And though every display is wonderful, they have outdone themselves this time. Check out what they've done for The Ascendance Trilogy: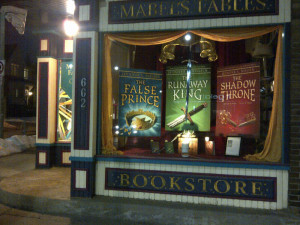 If you want to see it in person, or just want to support such a cool store, they're at 662 Mt. Pleasant Road in Toronto. If you're in Canada and want to order a book (such as em, THE SHADOW THRONE perhaps?) from them, you can search for that title here.
And if you're in the US, then find the indie bookstore closest to you and please support them! Go here, if you need help finding one!
THANK YOU, MABEL'S FABLES!!!