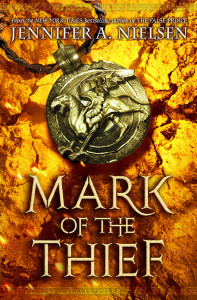 The MARK OF THE THIEF release is only four weeks away (Feb 24th)! I am so excited to share this book with you. I know lots of you found copies through Scholastic Book Fair, or you begged, borrowed, or otherwise got an ARC (Advanced Review Copy), but I still have 3 ARCs left to give away. Right here. I'll tell you how to enter below.
This book is getting great reviews so far. It's on Junior Library Guild's Spring 2015 list.
Kirkus gave it a starred review, saying, "The fast-paced, ingenious plot, charismatic hero, and highly diverse cast of characters – including the ancient, eternal city itself – make this series opener a captivating joy ride."
VOYA says, "The action moves the story well, often in surprising ways, and the background of Ancient Rome provides a peek into history that may surprise readers…"
VOYA's teen review says, "This is a captivating novel that will grab readers' attention through its fast-paced plot and historical insight. Nic is a believable character with his constant determination, plus he guides readers through the marvels and horrors of a Roman empire laced with magic."
Booklist says, "Fans of Jaron, Percy, Harry, and Eugenides may be excited by this offering."
So how to enter for a final chance to win an ARC? Leave a comment below telling me what you think about the cover for my next book, A NIGHT DIVIDED (8/25/15). This is the story of a girl whose family is split when the Berlin Wall goes up, and what it might cost her to reunite them again. It is a stand alone historical, completely separate from anything else I've written.
I cannot wait to share this story with you, to talk about how it came to be, and to hear what you think. Until then, I hope you are as excited as I am for MARK OF THE THIEF. Whether you buy a copy or ask your library to get a copy you can borrow, I hope you will get a chance to read it!
If you link to this post on Twitter, FB, Pinterest, or Instagram, let me know and I'll give you a bonus entry for each post! The contest ends on Friday, Jan 30 at 10 pm EST.