MARK OF THE THIEF will be released in only two weeks (Feb 24)! I am so excited to share Nic's story with you, and I hope you will like it.
This quote comes from a scene where Nic has just met a girl named Aurelia. She is street savvy and has had to be tough – that's all that keeps her from falling into slavery herself. She is also very suspicious of Nic at first. Something about him seems different, and that bothers her. What neither of them know at this point is that Nic has magic.
"You promised me water!" I yelled. And when he didn't respond, I drove my elbow into the side of the caravan, wanting him to know how angry I was. How desperate my thirst.
Across from me, Aurelia gasped, and then I saw why. My elbow had left a deep dent in the metal wall. I couldn't explain how. I only knew that I had done it.
She pulled out her knife and faced me as the caravan began to drive. "Stay away from me," she muttered. "You're cursed."
"I'm not," I said, but the lie sounded insincere, even to me. Every part of me understood that she was absolutely correct.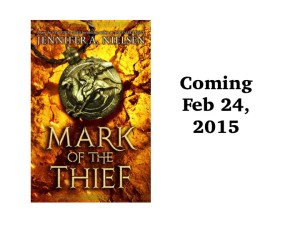 Also, as a warning, I'll be posting more often over the next two weeks. Lots of fun news coming up! I have tour news, book trailer news, award news, and probably will have movie news!
(BONUS NEWS: Tell your teachers to watch this blog on Valentine's Day! Trust me, they'll want to do that!)