Just a few fun things that fans have shared with me lately….
From Pelerel_APPLE on Twitter. Such amazing art!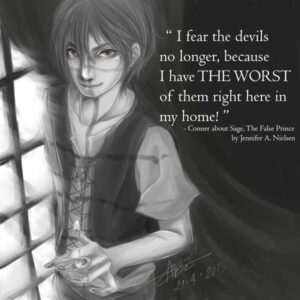 And, from a library in Wisconsin. Keep looking at it until you get the joke.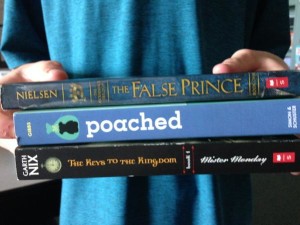 And finally, some really nice news. First is that the most wonderful R.L. Stein (Goosebumps) picked THE FALSE PRINCE as one of his favorite books, describing it here as "A wonderful old-fashioned adventure fantasy with a snarky, smart-aleck protagonist – a totally appealing boy named Sage, who doesn't follow any rules – filled with the kinds of twists I love."
Second is that in recent weeks, THE FALSE PRINCE was chosen by young readers as their favorite book in its category in Oklahoma (Sequoyah Book Award), Nebraska (Golden Sower Award),  South Dakota (Young Adult Reading Program Award), and Louisiana (Young Readers' Choice Award). My thanks to readers in all of those states (and in other states where THE FALSE PRINCE was nominated for book awards), for your votes!

UPDATE: It's also a winner in California (California Young Readers Medal). Thank you, Golden State!