IT'S RELEASE DAY!!!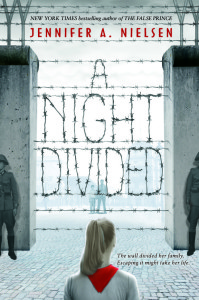 In early May 2013, I was finishing on Infinity Ring: Behind Enemy Lines, which takes place in Germany, and became curious about what happened to Germany after the war ended.
That curiosity led me to the rise of the Berlin Wall, and as soon as Gerta's voice appeared in my head with her opening line ("There was no warning the night the wall went up."), I knew I had to write this book.
Why does this matter to me?
I think it's because this wasn't an event from hundreds of years ago, or some fantasy/dystopia story. This was in my lifetime, where real people made the decision that they would not live out the remainder of their lives trapped behind a concrete wall. I hope if I had been born into the same situation, that I would have made similar courageous choices. This book honors those great people, and I am SO EXCITED for you to read it!
You can get a copy at your favorite local bookstore or library, or click any of these links to order now:

CONTEST…WHAT CONTEST?
To celebrate the release, I am giving away five signed hardcovers of your choice for either A NIGHT DIVIDED or MARK OF THE THIEF, for you or donated to a school or person of your choice.
To enter, do any of the following. One entry per mention, post, or review:
A) Post about this book release on your fave social media (Twitter, FB, Instagram, etc). Either tag me in (nielsenwriter, or Jennifer A. Nielsen) or let me know about your post below.
B) If you've already read one of the above books, leave a review of A NIGHT DIVIDED or MARK OF THE THIEF, either on your own blog, or wherever you leave reviews (Amazon, B&N, Goodreads).
This contest will end on Tues, Sep 1 at 8 am EST. International entries are okay.