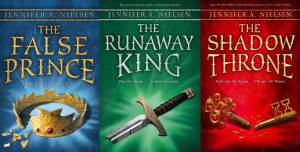 I have a few fun things to share in relation to the Ascendance Trilogy!
First, if you're interested, please go HERE to vote for THE SHADOW THRONE for YALSA's Teen Top Ten Books of 2015 list. YALSA is the Young Adult branch of the Library Services Association. Of course, there are several other excellent books also worth voting for, if you prefer.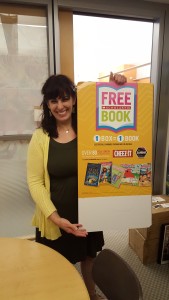 Second, if you're a fan of Kellogg's products (Woot! Frosted Flakes! Pop Tarts! Cheez-its!), watch for specially marked packages found at either Walmart or Sam's Club. Buy it, then the box will contain a code that you can enter online HERE and get an absolutely free book. Happy news – THE FALSE PRINCE and THE RUNAWAY KING are both being offered (Did I mention they're free? Well, free after you buy the Kellogg's product, but again, Frosted Flakes!)! There are many more great books too, all worth checking out!
(That gorgeous lady holding the sign for the Scholastic/Kellogg's partnership is my awesome editor, Lisa Sandell!)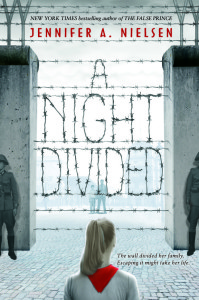 Third has nothing to do with The Ascendance Trilogy, but hey – it's news! Just a reminder that my next book, A NIGHT DIVIDED, will be released this Tuesday! Check it out!