On August 30th, I will release THE SCOURGE – a book I am so excited to share with you! YA Books Central is hosting a giveaway of three galley copies right now, so go check them out! This is the earliest giveaway of this book and there won't be another for a few months. Seriously, click their blog name right now!
Art credit goes to Tim O'Brien, the same artist who did my cover for A NIGHT DIVIDED.
Don't let the title fool you – THE SCOURGE is a high energy adventure with a lot of humor and heart.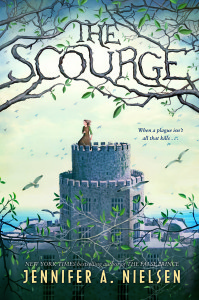 The story centers on Ani Mells, who lives in a land beset by a terrible disease called the Scourge. There is no known cure, and it's believed to be contagious. So when she is diagnosed with it, she is immediately sent to a quarantine island to live out the rest of her life. Her best friend, Weevil (the best, best friend anyone could ever have), fakes his symptoms so that he can come along and make sure she is okay. They meet new friends, make new enemies, and uncover a secret on the island far more dangerous than the disease itself.
Ani is a courageous, outspoken girl who cannot stay out of trouble even if her life depends upon it. And this time, it does.
If you enjoyed Sage's sarcasm, Nic's loyalty, or Gerta's bravery, then I know you will love Ani and Weevil as much as I do!
Remember, go see the full post at YA Books Central and enter their giveaway to get a copy of this book now!
But if you don't win, then you can preorder the book by clicking on your favorite vendor below, or tell your local librarian all about it!
Also, get to know these two songs. During the writing of this book, these were on a near constant loop on my playlist. More explanations to come about these songs…
I'm Gonna Be by the Proclaimers
Breaking the Habit by Linkin Park