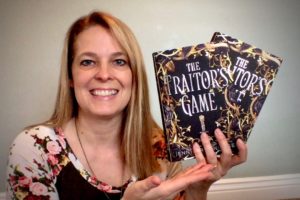 A lot of exciting news is coming over the next few weeks, but for now, I have ACTUAL, REAL COPIES OF THE TRAITOR'S GAME!!!
If you're a Utah type, please come to the launch party at the South Davis Library in Bountiful on Feb 27 at 7 pm. More information is HERE!
Which means you have only two weeks left to pre-order a copy in order to get this gift pack. Remember I told you that orders had been high enough, I was running out of a few things. Well I've stocked up, re-ordered, and then exchanged one item. So here is what is now included:
Signed Quote Card – Also a bookmark, featuring a quote from The Traitor's Game
Signed bookplate
Dagger keychain
Stickers with Original Art – Two scenes from the book!
Teacher Discussion Guide – For you, or your favorite book club leader
AND…
Automatic entry to win an ARC of my fall 2018 historical, RESISTANCE or a free Skype visit.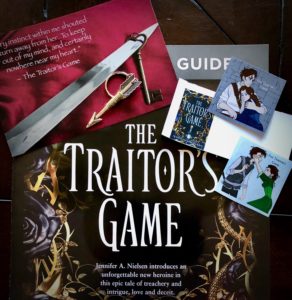 If you know you're going to buy a copy of the book anyway, why not do it now?
HOW TO QUALIFY:
1. Pre-order THE TRAITOR'S GAME by February 25th, 2018. Pre-order from your favorite site or store, but if you choose The King's English, the book will be sent to you signed and personalized.
2. Take a picture of the purchase receipt.
3. Send an email to jen@jennielsen.com with the following information:
A. Your full name
B. Your full mailing address
C. The name to be signed on the bookplate
REMEMBER TO ATTACH A RECEIPT WITH YOUR PROOF OF PURCHASE
US and Canadian addresses only. No receipts accepted after February 27, 2018.
LINKS
WHO HAS ORDERED?
For the curious, orders have come in from 30 states + Puerto Rico and Canada, and some areas have been fantastic (thank you, California, Utah, Texas, New Jersey, Florida, and Ohio in particular)! But I'd love to send to one of the states yet to order. I'll mark it off here on the blog when I get those orders in!
Alabama * Alaska * Hawaii * Iowa * Kansas * Maine * Massachusetts * Minnesota * Mississippi * New Hampshire * New Mexico * North Dakota * Pennsylvania * Rhode Island * Vermont * Wyoming
Orders now in from: Connecticut, Delaware, Montana, Oklahoma… okay 16 states left! Can I get an order from each one by Feb 27th?