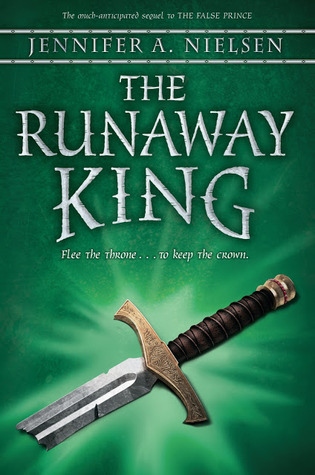 From Goodreads: A kingdom teetering on the brink of destruction. A king gone missing. Who will survive? Find out in the highly anticipated sequel to Jennifer A. Nielsen's blockbuster THE FALSE PRINCE!
Just weeks after Jaron has taken the throne, an assassination attempt forces him into a deadly situation. Rumors of a coming war are winding their way between the castle walls, and Jaron feels the pressure quietly mounting within Carthya. Soon, it becomes clear that deserting the kingdom may be his only hope of saving it. But the further Jaron is forced to run from his identity, the more he wonders if it is possible to go too far. Will he ever be able to return home again? Or will he have to sacrifice his own life in order to save his kingdom?
The stunning second installment of The Ascendance Trilogy takes readers on a roller-coaster ride of treason and murder, thrills and peril, as they journey with the Runaway King!
Here's the UK cover, which I also love!: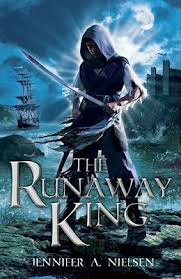 THE RUNAWAY KING is available in hardcover, e-book, and audio. I strongly encourage people to buy from their local indie first, but copies are also online.
If you want to find me for a signing, I will post my tour schedule separately. If you want a signed copy, but can't get to me, you can order online from The King's English Bookstore. I'll sign that copy and they will ship it to your front door!