Next week I'll go into more detail about the book I'm releasing soon, but for those who need to get caught up on the series, here's what you've missed…
I happen to have a few extra copies of a couple of books laying around, and I will send them, one per person, to anyone who asks for one in comments. When they're gone, they're gone!
Summaries provided by Scholastic.
When best friends Dak Smyth and Sera Froste stumble upon the secret of time travel — a hand-held device known as the Infinity Ring — they're swept up in a centuries-long secret war for the fate of mankind. Recruited by the Hystorians, a secret society that dates back to Aristotle, the kids learn that history has gone disastrously off course.
Now it's up to Dak, Sera, and teenage Hystorian-in-training Riq to travel back in time to fix the Great Breaks . . . and to save Dak's missing parents while they're at it. First stop: Spain, 1492, where a sailor named Christopher Columbus is about to be thrown overboard in a deadly mutiny!
By James Dashner, NYT Bestselling author of THE MAZE RUNNER series and the recently released THE EYE OF MINDS.
Online Game: Save the crown jewels to keep the SQ from crushing the French Revolution.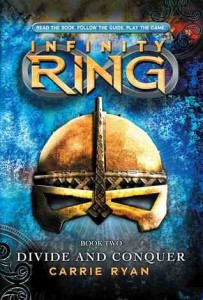 (2 Hardcover books, and one galley available)
Hundreds of ships carrying thousands of warriors are laying siege to medieval Paris. The Parisians are holding their own, but the stalemate can only last so long. And that's bad news — especially since Dak has been captured, forced to work alongside the Vikings while Sera and Riq defend Paris from within. No matter which side wins, the kids lose!
By Carrie Ryan, NYT Bestselling author of THE FOREST OF HANDS AND TEETH trilogy.Dak, Sera, and Riq might be in over their heads when they attempt to stop a Viking invasion!
Online Game: Protect First Lady Dolley Madison from enemy Redcoats.
(3 Hardcover books available)
Dak, Sera, and Riq return to the United States and walk immediately into a deadly trap. The year is 1850, and the nation is divided over the issue of slavery. In these dark days, the Underground Railroad provides a light of hope, helping runaway slaves escape to freedom. But the SQ has taken control of the Underground Railroad from within. Now Dak and Sera are left wondering who to trust . . . while Riq risks everything to save the life of a young boy.
By Lisa McMann, NYT Bestselling author of books for teens and the popular series, THE UNWANTEDS.
Online Game: Learn to be a samurai to defeat ninja assassins in feudal Japan.
BOOK FOUR: CURSE OF THE ANCIENTS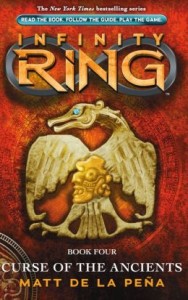 Sera has a secret. She's seen the future, and it is terrifying. Unfortunately, she can't do anything to prevent the Cataclysm while stranded with Dak and Riq thousands of years in the past. Their only hope lies with the ancient Maya, a mysterious people who claim to know a great deal about the future. Is there more to these ancients than meets the eye?
By Matt De La Pena, critically-acclaimed author of several books for teens, including BALL DON'T LIE, MEXICAN WHITEBOY, and the forthcoming THE LIVING.
Online Game: Stop an SQ army from charging through the Great Wall of China!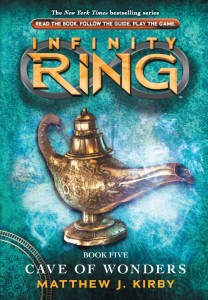 (2 galley copies available)
Europe is in the grip of the Dark Ages, but there is a light in the dark: Baghdad. The great city has become a center of learning, populated by scholars, merchants, and explorers from all across the known world. But danger lurks in the desert . . . and Dak, Sera, and Riq must act fast to save the world's greatest library from utter destruction.
By Matthew J. Kirby, award-winning author of THE CLOCKWORK THREE, ICEFALL, and the recently released THE LOST KINGDOM.
Online Game: Can you help get Lewis and Clark back on the trail again?
Beyond the adventure of fixing history, Dak, Sera, and Riq are dealing with other issues. What did Sera see when she disappeared at the end of Book 3? Where are Dak's parents? Why doesn't Riq have remnants?
Next week, I'll tell you about BEHIND ENEMY LINES, and what I consider to be one of the coolest spy stories in history!