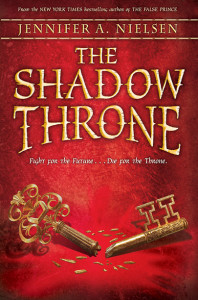 Alrighty, so now I wish ALL OF YOU could've won!
Your comments for things you hoped to see in this book were so much fun to read. It makes me even more excited to have you all read it and see how your hopes and guesses match up with the way things unfold for Jaron & Co.
The winners have been chosen and emails sent out. Which means (frowny face here) if you didn't get an email from me, then someone else won.
Here are the winners: Valerie S, Melanie V, Ellie M, Royce V, Zachary C, and Madison P. (Still waiting to get confirmation from one more!)
There will be other giveaways before the book releases, maybe from me, or from other blogs. But BEST OF ALL, hardcover books will be released soon (Feb 25, 2014) for everyone to read!
Which is a good thing, because as all of you know (if you've finished THE RUNAWAY KING), the kingdom of Carthya is in a tight spot, and War is Coming…