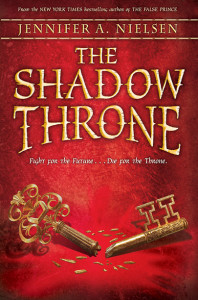 Okay, I've been promising this for several weeks. Here it is!
I am giving away a total of SIX galley copies of THE SHADOW THRONE.
You ask, what is a galley? A galley (a.k.a. ARC: Advanced Review Copy) is a paperback version of the book meant to be sent to reviewers and bookstore buyers. They are not for resale and sometimes have typos because they are printed early. Occasionally, the author gets her sticky little hands on a few copies and can give them away to awesomes out there like YOU!
The contest runs from RIGHT THIS VERY MINUTE until Sunday Dec. 15, 2013. At which point I'll get a notification of the winners and ship everything out as soon as you contact me with a mailing address. There are many ways to enter.
I wish everyone could win, but alas, my hands are not sticky enough for all of you. If you don't win just know that February 25, 2014 (the release date) is coming soon, and I hope everyone will have a chance to find a copy then.
Fight for the Future. Die for the Throne.
War is Coming…