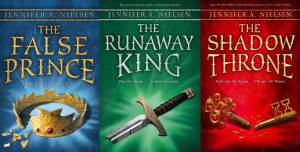 To celebrate the pending release of THE RUNAWAY KING on paperback (Jan 28) and Book 3, THE SHADOW THRONE (Feb 25), I'm giving away lots of books.
Maybe you'll win…
1 of 2 ARCs of  Book 3 THE SHADOW THRONE
1 of 10 signed hardcover copies of Book 2 THE RUNAWAY KING
1 of 2 paperback copies of Book 1 THE FALSE PRINCE
If you don't have a copy of your own, then I hope you win one. If you do have a copy, then please try to win one to donate. Maybe to a friend, a librarian, a teacher, or somewhere else!
Here's how to enter:
1 Entry for leaving a comment telling me A) Which book you want to win, and B) Who you plan to donate it to and why.
1 Entry each for posting about this series online (FB, Instagram, Twitter, Pinterest, your blog, etc.) Tell me you did it in comments, or tag me in. On Twitter, I'm @nielsenwriter
But wait…there's more!
If you know of a library/teacher/reader who might want one of these non-English books below, just leave a request in comments. If there are more requests than copies available, I'll draw for winners at the end of the week.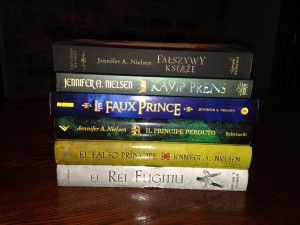 Fałszywy książę (Polish THE FALSE PRINCE)
Kayip Prens (Turkish THE FALSE PRINCE)
Le Faux Prince (French THE FALSE PRINCE)
Il Principe Perduto (Italian THE FALSE PRINCE)
El Falso Principe (Spanish THE FALSE PRINCE)
El Rei Fugitiu (Catalan THE RUNAWAY KING)
Whatever comment you leave below, be sure to tell me which book you want! If you don't put that in, the entry won't count. Also…
* You may enter for more than one book, but do it in a separate entry. However, you may only request each title once.
* The contest ends at 11:59 pm MST on January 25th, 2014
* Yes, this is international.
All right, let's see those entries!