There's so much exciting stuff to announce today!
First is some award news. THE FALSE PRINCE is the winner of the YA category of Utah's 2014 Beehive Book Award. This is a huge thrill and honor because it's my home state. Thanks to all the Utah children who gave this book their vote!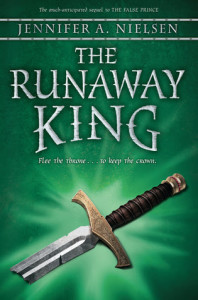 Second is more award news. THE RUNAWAY KING is the winner of the MG category of the 2014 Whitney Award. Again, I have a great respect for the other books that were nominated, and I thank those Storymakers who voted!
Third is that the fund raising for Robison Wells is going well, but has a long way to go. If you aren't aware of his situation, Shannon Hale explains it better than I could. Please see her blog HERE or go directly to the IndieGoGo page HERE. Donating will help him, and provides some amazing book perks for you too!
And finally….this announcement just came out in Publisher's Weekly:
Lisa Sandell at Scholastic has acquired two stand-alone middle-grade novels by Jennifer A. Nielsen (The False Prince), beginning with A Night Divided, a story of danger and intrigue in Cold War-era East Berlin, about a girl whose family is split in half when the Berlin Wall goes up. The first book is scheduled for publication in fall 2015. Ammi-Joan Paquette of Erin Murphy Literary Agency negotiated the deal for world rights.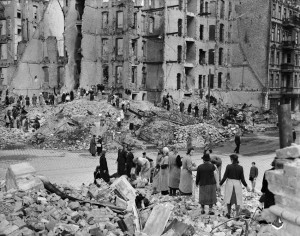 As you know, I wrote the sixth book of the INFINITY RING series, which takes place in World War Two Germany. Afterward, I became curious to learn more about what happened to Germany following the war. Things were bad, of course. Parts of Germany had been bombed to rubble, and the country was divided amongst each of the four allies in the war: United States, Britain, France, and Russia. The first three worked together and became West Germany. By then, Russia had turned to Communism and ran East Germany.
West Germany began to prosper and rebuild, while East Germany's progress was largely stagnant. Not surprisingly, easterners began leaving in droves, so many of them that it drew Moscow's attention.
On the morning of August 13, 1961, easterners awoke to soldiers standing in front of barbed wire fences along the East Berlin border. Their guns were aimed at their own people, warning them not to dare a crossing. It became known as Barbed Wire Sunday.
Within days, a concrete wall began to rise, which became known as the Berlin Wall. It would stretch along the entire East/West Germany border, and through divided Berlin. But it was more than a single wall. There were two concrete walls, actually, and between them was a Death Strip expertly designed to stop, capture, and kill any East German citizen who tried to escape.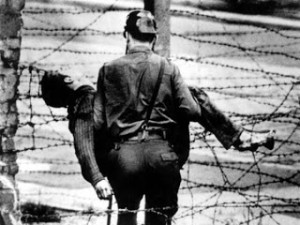 In the twenty-eight years over which the wall stood, thousands of people tried to escape. Some of them succeeded, and many were killed, then branded by their government as traitors, all because of the most basic of human desires – the quest for freedom.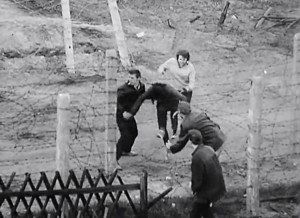 The more I read, the more I began to wonder…what if a family found itself divided on Barbed Wire Sunday? What price would one girl pay to reunite them? How could she ever find a way across the Death Strip? Most importantly, would this girl risk everything, even her own life, for freedom, for family, and for her chance of a future?
If you want to learn more about the Berlin Wall, you can watch this on YouTube here.