In most areas of the country, school is out for the summer, which makes it the collective time of year for teachers to draw in a slow breath and then actually sit for a few minutes without wondering if they should be grading something. Having taught high school for a handful of years, I know the feeling of summer. It's a good one!
But it's more than just the relief of knowing you've finished another school year. It's also the curiosity of what will happen in coming years to the students you've genuinely grown to love (or tolerate). It's wondering if you could have done anything more. If you mattered.
(That pic is of kindergarten age me! Cute, huh?)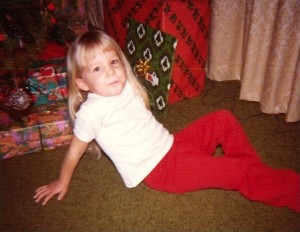 When I was in school, 1st grade was the year we learned to read. The problem was that, thanks to a diligent older brother, I had started kindergarten already able to read. And as you would expect, my kindergarten teacher wasn't excited about this. (Sarcastic font there, right?) She asked me not to read until 1st grade because I might develop bad habits.
As any good 5-year-old would do, I rebelled, and became a secret reader. I pretended to look at the pictures in the book, but really, I was reading the words. Rebel with a cause, as I saw it then.
I know this story sounds odd, really the opposite of what we'd expect from a teacher. And overall, my kindergarten teacher was a good teacher, if perhaps a bit old school.
Then in 1st grade came Mrs. Flores. She not only celebrated that I could read, but did everything she could to push my skills ahead. This included inviting 6th grade students down to read independently with me, pulling books from older classrooms to give me, and always making me feel like reading early was a wonderful thing.
I last saw Mrs. Flores when I left elementary school, until twenty years later when I bumped into her again, still teaching, but this time as a retiree volunteer at a Title One school. She remembered me. And in twenty years, my love for her had only grown.
From Mrs. Flores, I learned to love words, and to be proud of myself as a reader. I learned to love school.
In the upcoming MARK OF THE THIEF series (2/24/15), each book will be dedicated to a different teacher who made a difference for me. Book 1 is for Mrs. Flores.
Sometime before the book's release, I hope to find her, so that I can tell her this in person and give her a copy of the book. I hope I can. Because she doesn't know I've become an author, and I want her to know that for me, she mattered.
If you had a teacher that ever mattered to you, will you tell them too? Or leave a comment below about your greatest teacher below.