Stats:
Days Away from Home: 15
Total # of Airports Passing Through: 9
States: 5 (Nebraska, Texas, Maryland, Virginia, Illinois)
Schools: 9 + 1 Library
Conferences: 2
Diet Mt. Dews Consumed: Don't ask
Highlights:
* That 6th grader in Omaha who told me you didn't like to read until you found THE FALSE PRINCE, and now you're reading everything you can get your hands on. Never stop reading. Never stop growing.
* That standing room only crowd that came out to the Omaha Public Library even though it was freezing outside. I didn't expect to see so many of you. Truth is, I wasn't sure if anyone would come, but you did, and you were all so fantastic.
* Meeting Lauren Oliver and Julie Kagawa for the Teens Top 10 Panel at YALSA in Austin. Something about us clicked, which made it one of my favorite panels ever. I would present with you two anytime, on any subject, just for the laughs I know we'd have. By the way Lauren, I want your boots. (photo credit: @thepageturn)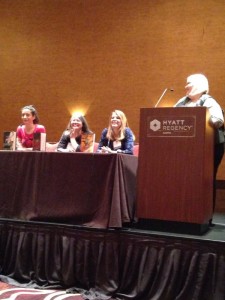 * The librarians of PSJA school district in South Texas who had such passion for books and for inspiring their students. It's hard to find any librarians I don't absolutely adore and admire, but you ladies were an amazing group, with an amazing leader. The only thing more impressive was your wonderful students. Credit: Minnie Lazo.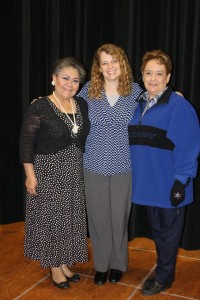 * The STARRED Kirkus review for MARK OF THE THIEF. Read it here, please! They call it "a fast-paced, ingenious plot, charismatic hero, and highly diverse cast of characters – including the ancient, eternal city itself – make this series opener a captivating joy ride." Getting a star from Kirkus is sorta like getting a standing ovation from Simon Cowell, so this was an honor.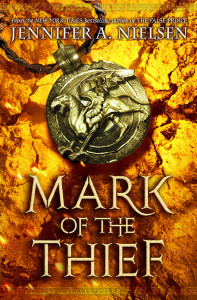 * Owen. Dude, you know who you are. I expect major things from you.
* That mom who came through my signing line to tell me her son never willingly read a book until THE FALSE PRINCE. He underlined different scenes and made notes in the columns and now he wants to be a writer.
* Brian, on Twitter, who said you liked my presentation enough to make MARK OF THE THIEF your airplane read. Happy reading, Brian.
* The boy who came through my signing line twice. Once to get a copy of THE FALSE PRINCE. And a second time to say you were six chapters in already and loving it. I hope you loved it to the end.
* The beautiful girl in Virginia who couldn't wait to tell me about the story you're writing. Finish your book. Don't give up, even when it's hard. When you're published, I will be second in line to buy it. (Your mom will be first!)
* Every. Single. Person. Who works for Scholastic. Every one of you.
* This moment at the M.R. Robinson dinner where the unnamed sponsor showed a video, which is a love poem to books. I was already touched while watching it, thinking of how cool it would be to one day write a book so inspirational to young people that it would belong in a video like that. Then 2:10 happened, with this image below. If you want to watch the entire video (which is beautiful), then click here.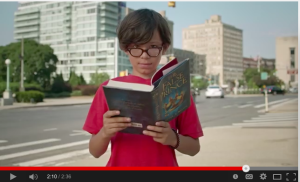 The ULTIMATE highlight of the trip? Coming home. I am always honored and appreciative of the opportunities to travel and meet other young people, teachers, authors, and librarians. But there is no place like home.