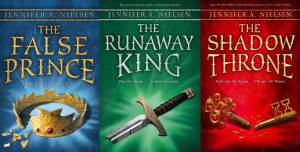 The holiday season is here! If you want to give one of my books as a gift (which, frankly, I think is a marvelous idea!), and if you want to give a signed copy, here is how to do that.
1. If you're a Utah type, come in to The King's English in Salt Lake City (1511 South 1500 East) on Sat, Nov 29 from 12-2 pm where I'll be a guest bookseller for Small Business Saturday. I can sign your books in person then.
2. Order your book from The King's English in Salt Lake City.
a. Choose the book you want and add it to your cart.
b. Click the button to check out.
c. This will take you to a new page. Scroll to the bottom and there will be a section for Order   Comments. Enter in the name for whom you want the book personalized.
d. King's English will do the rest. They'll have me come in to sign it and ship it off to you. This is the easiest plan if you don't already own the book.
3. If you DO already own the book, you can send it along with a pre-paid return envelope. I will sign it and put it back in the mail. Address it to me and send it to PO Box 735, Morgan, UT 84050.
4. Cross your fingers to win an ARC of MARK OF THE THIEF. There will be a lot of entries, but I'm going to give several copies away in December. Look for details here on my blog beginning this weekend!