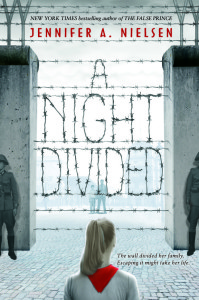 I'm posting this quote a little early this week because it's going to be a crazy few days ahead!
In this scene, Gerta has mysteriously received a drawn picture of a building and becomes convinced it is from her father, who is surely sending her a message to find the building and use it to escape the east. However, when she shows it to her brother, Fritz, he is less certain. Anna, mentioned below, is a friend of Gerta's.
"How do you know the picture is from Papa?" In frustration, Fritz turned from me and ran a hand through his hair. "How do you know it's not some test from the Stasi to get us here and then have a legitimate reason to arrest us?"
"They don't play games like that!"
"They do, Gerta. They do that all the time! If they believe our family has some sort of rebellious streak, do you really think they'll sit back and wait for us to commit a crime when they could just trap us now? Or maybe Anna's family drew this picture to lure us here so they can turn us in to the Stasi."
"Anna's family wouldn't—"
"Yes they would, and if you want to stay naïve about how dangerous this tunneling idea is, then you have no business even thinking about it! Our friends could betray us, family members could betray us. Some stranger on the street could report us and we'd never know who it was. There is nobody we can trust!"
It's about two weeks until the release of A NIGHT DIVIDED (August 25th) – and I'm so excited for you to read it! You can find a copy at your local bookstore, online, the library, or at your Scholastic Book Fair. I hope you'll check it out!