Last week's giveaway was open only to students. This week's winner is:
Aysia Serene
This week, as a back to school celebration, the giveaway is only for teachers and librarians. To win, leave a comment below simply telling me your favorite way to encourage young readers. A winner will be announced next Tuesday.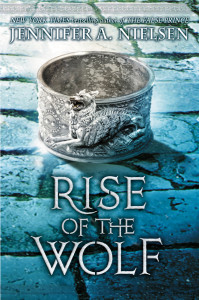 Here is quote #3 from RISE OF THE WOLF. This takes place during a battle between Nic and the praetors on the property behind Senator Valerius's land. It's short, but I think it's a good one!
Not far from me, a Praetor had a bow aimed directly at them. Rather than create a shield, I used the last of my magic to hit the Praetor, but it was a moment too late.
With the punch of magic, his arrow released at a different angle than what had been intended and missed Crispus. But it did hit someone.
RISE OF THE WOLF will be released on January 26th – coming soon! If you haven't read book 1, MARK OF THE THIEF, yet – it's now available in paperback. Ask for it at your favorite bookstore!