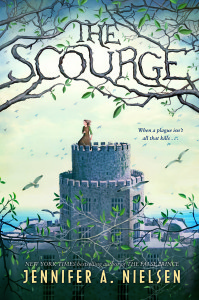 All right, for giveaway #1, here's all you have to do: Finish this final sentence from THE SCOURGE! How would you end it?
In this scene, those with the Scourge are being forced to swim out to boats to take them to the quarantine island. Ani (the narrator) and her friend Weevil are disappointed to find the only remaining spaces are on a boat with Della, a girl they both strongly dislike.
Della stood as we swam closer. "Look how sick that woman is! She'll make me worse!"
"The other boats are full," Weevil said.
I gripped the side of the boat, but the woman we were helping was too weak to lift herself into it. Della made it even harder by shifting her weight to the opposite end of the boat, preventing us from tilting it down for the woman.
"I refuse to ride with grubs, or with people too sick to swim!"
I'd had enough. "Have it your way," I said. Then I ______________.
Put your entry in the comments.
(Tip, if it's not family friendly, it's not getting approved and thus, won't count as an entry!) I'll announce this week's winners on June 12th!
If you want to read the rules, look here!
THE SCOURGE will be released on August 30th. You can pre-order your copy now!