The winners of last week's giveaway are:
***  Elise   ***   Jeevan   ***   Daniel   ***
If you didn't win, no worries – your past entries still count toward a win, and another giveaway is below!
Let's have some fun this week! There are no right or wrong answers – I'm just looking for opinions, and maybe your answers will influence my future books!
Post your answers below in this format: 1 (A), 2 (C), 3 (B) etc, with whatever letters you choose.
My favorite books…

A. Have a lot of romance.
B. Have a little romance.
C. Blech! Romance? No way!

The book series that first introduced me to Jennifer Nielsen was…

A. Elliot and the Goblin War (Underworld Chronicles)
B. The False Prince (Ascendance Trilogy)
C. Mark of the Thief (Mark of the Thief series)
D. A Night Divided
E. Something else
F. Who is Jennifer Nielsen?

From Jennifer Nielsen, I would most like to see…

A. More medieval fantasy
B. More fantasy in a different time period
C. More historicals
D. A completely new genre
E. A picture of Jennifer Nielsen – seriously, who is she?

The thing I most look forward to in a Jennifer Nielsen book is…

A. Humor
B. Fast-paced adventure
C. Characters I love
D. Unexpected twists
E. Something else
F. Honestly, I'm not sure how I even got to this website.

Most of the books I read come from…

A. Libraries
B. My local bookstore
C. School book fair
D. Amazon
E. Other online place
F. Stealing, borrowing, or other means. Really, just stealing.
Okay – I look forward to hearing your answers in the comments below! For anyone who is curious, next week, I'll post the responses.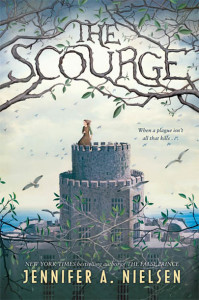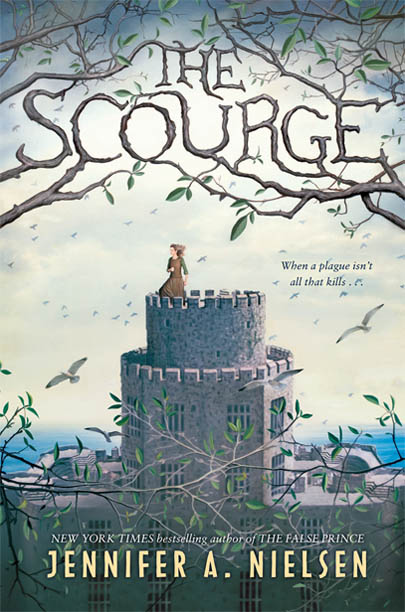 As a reminder, THE SCOURGE will be released on August 30th. You can pre-order your copy at your favorite bookstore, or online here: