On March 28th, Scholastic will launch its next Multiplatform series, HORIZON. Readers, I want you to check out this book because it is made of awesome!
Summary: When a plane crash-lands in the arctic, eight young survivors step from the wreckage expecting to see nothing but ice and snow. Instead they find themselves lost in a strange jungle with no way to get home and little hope of rescue. Food is running out. Water is scarce. And the jungle is full of threats unlike anything the survivors have ever seen before — from razor-beaked shredder birds to carnivorous vines and much, much worse. With danger at every turn, these eight kids must learn to work together to survive. But cliques and rivalries threaten to tear them apart. And not everyone will make it out of the jungle alive. (From Scholastic)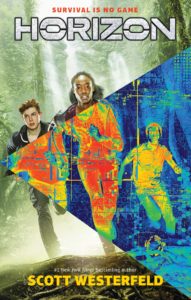 Read the book, play the game, and then get ready for book 2, DEADZONE, that I am writing and that will be out in September. So read this book now!
Let's get the fun started with a giveaway. I am giving away three ARCs. To enter, leave a comment below that answers this question:
Which environment do you think would be the hardest for survival and why?
A. Jungle
B. Desert
C. Forest
D. Beach
E. Arctic
Entry Rules:
The contest begins as soon as this is posted and ends at midnight EST on March 11, 2017.
Winners will be drawn at random.
International entries are allowed.
One entry per person.
Winners will be announced on this blog and contacted personally by email. I will make every effort to get winners their books, but I cannot be responsible for lost or damaged books.
P.S. As of this posting, there is no movie news. When there is, it'll post to this blog first, but until it posts, there is no movie news.