Congratulations to the three winners of HORIZON by Scott Westerfeld. They are:
Nyaisha Brown
Caity
Megan Higginbotham
---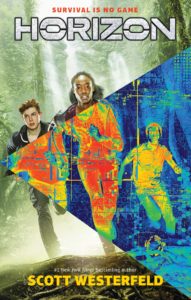 ---
          If you didn't win, you can still get your own copy of the book. They are available in your Scholastic Book Fair, or hardcovers will be released into bookstores on March 28th. If your local or school library doesn't have a copy and you want to read it that way, then ask them to order it in.
          I hope you'll read this book for two reasons. The first is because it's genuinely awesome. Scott Westerfeld has built an amazing world where the odds of survival are difficult, at best.
          The second is because I'm writing book 2, DEADZONE, which will be released on September 12th. I'll talk more about that soon.
          In the meantime, congrats to the winners, and thanks to all those who entered. More news, giveaways, and releases are coming soon!