Here's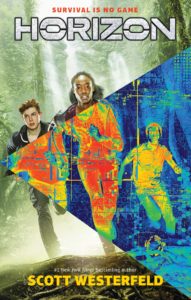 the scenario: You and a small group of friends are among only a few survivors of a plane crash somewhere over the arctic. The other survivors include a know-it-all, a rebel, and two sisters who don't speak a word of English.
Also, the landscape around you is anything but arctic. And the creatures that emerge from this jungle environment take danger to an entirely new level.
This is the premie of Scott Westerfeld's book, HORIZON, the start to an exciting new series that will keep readers on the edge of their seat. Seriously, I loved it!
So when the opportunity came to write the second book of the series, DEADZONE, I eagerly signed on.
In DEADZONE, our heroes have crossed to a new desert environment. With new dangers, new challenges, and new threats to their survival.
HORIZON is out now. Available at your favorite bookstore or online. Read the book, play the game online!
DEADZONE will be released on September 12, 2017.
But…if you want to win a copy of either HORIZON or DEADZONE, then here's your challenge: Pick any of the items below and tell me how you could use it to survive if you suddenly found yourself in a strange and foreign environment.
Dental Floss                   Pantyhose                           Wooden Chopsticks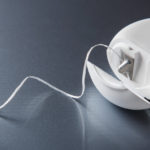 RULES:
Only one entry per person.
Open to anyone with a U.S. or Canadian address
One copy will be given away each week until all copies are gone, with winners posted each Sunday evening, when the new contest entry is listed.
You may post each week, but you can only be a winner once.