Thanks to all who entered last week's giveaway. The week 5 winner is:
*** Jamie Jensen ***
If you're just joining me for the summer, each week I'll do a random drawing for a book from the HORIZON series. Book 1 was written by Scott Westerfeld, and my book 2, DEADZONE, will be released on Sept 12, 2017.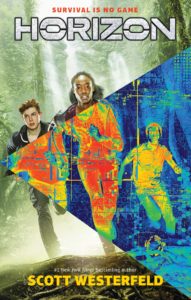 HORIZON is the story of eight survivors of a plane crash on its way to Tokyo. They believe they've crashed somewhere over the Arctic, but when they begin to explore the area, it's anything but snow and ice. And they've got to work together to keep themselves alive now.
If you haven't seen the book trailer, check it out here. And if you haven't read book 1, DO IT! Because I really want you to enjoy the second book.
Also, I finally have tour information for this fall. It'll be posted in detail on my Events page, but in brief, you can find me in the following places:
9/3/17        2:15 – 3:45 pm        Decatur Book Festival        Decatur, Georgia
9/11/17       7:00 – 8:30 pm      King's English Bookstore   Salt Lake City, Utah
9/16/17       2:00 – 3:30 pm     Provo City Library               Provo, Utah
9/18/17       TBD 7:00?             Main Street Books              St. Charles, MO
9/22/17       TBD 7:00?            Anderson's Bookshop         Naperville, ILL
10/17/17      7:00 – 8:30 pm   Helper Library                     Helper, UT
10/28/17     5:00 – 6:00 pm.  Teen Boot Camp Conf       Rexburg, ID
Over the next two months I'll also be doing school and store visits in Charlotte NC, Nashville TN, San Francisco CA, Cincinnati OH, New York NY, Gillette WY, Northern CA, Burbank CA, and Charleston SC.
BUT…we are also beginning to plan for touring in early 2018 for THE TRAITOR'S GAME, a new series I'll begin talking about more in a couple of months. All I want you to do in comments is leave the name of the state where you would like me to come visit the most. (If you don't want to post your own state because of privacy issues, that's fine. Use a fake name and/or choose a state that you think I would enjoy visiting.)
And here's the important part: whatever state gets the greatest number of mentions will be placed #1 on tour suggestions I'll give my publicist, so make sure your friends put their votes in too!