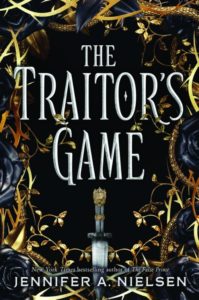 Congratulations, Sandra Furlotte – you are the winner of THE TRAITOR'S GAME arc!
To all those who entered, thank you for your comments about the other wonderful books soon to be released from Scholastic Canada – I hope you'll give them all a try!
But honestly, I hope you'll give TRAITOR'S GAME a try first (😉)! This book will be released on Feb 28, 2018, but if you know you're going to want a copy anyway, why not go ahead and pre-order now? Seems like a fine start to the New Year's, to me! I'll even make it simple for you.
If you have a local indie bookstore, please buy your copy there. But if you're online, here are some other options: