First up, there's a bit of news..or forthcoming news anyway. Tomorrow I will finally be able to reveal the cover and title to my INFINITY RING book. Woo-hoo! I'll warn you now, it's pretty cool. Please check in again and let me know what you think!
Okay, so one of my favorite things about being an author is hearing from readers who enjoyed something I've written enough to create their own art from it. I wanted to share some of what has been sent to me, shared with me, or that I've just stumbled upon. There are some seriously talented young people out there.
First is this poem, created by Stephanie (click to enlarge the poem). Artistically speaking, this is really nice stuff! If you happen to see this, Stephanie, please know how much I enjoyed it! Keep writing!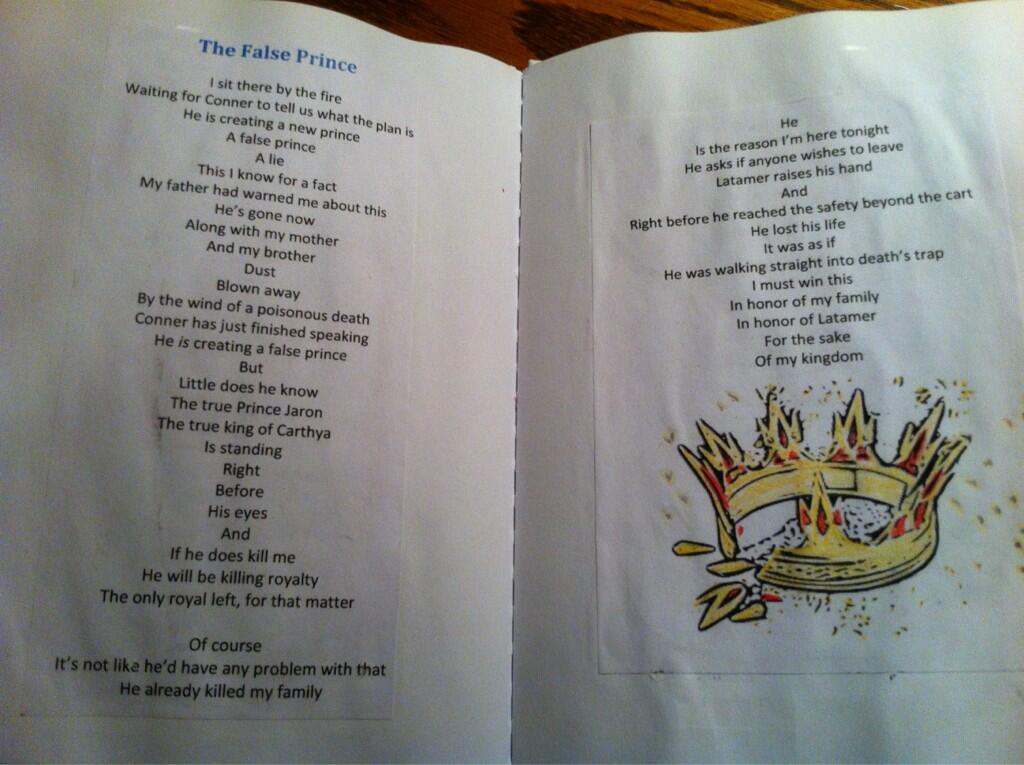 There is also some fantastic art created of Sage, which you can find here (with the best description ever of Sage as "the most arrogant little prick you will ever want to be your prince"), here, and here. Seriously, I can barely draw a straight line. These are amazing!
There is fan fiction, such as this one told from Latamer's perspective while at the campfire (The False Prince). Great job!
And sometimes a terrific book trailer, such as this one made for The Runaway King (warning: contains spoilers from Book 1)! There are others posted too, but I wanted to be careful because they showed actual kidlets and not just images.
Many thanks to those who have used your own talents and abilities to share your enthusiasm for this series. It is the greatest of compliments to be rewarded in such a way. If you've created something you want me to feature on this blog, please let me know in comments below!