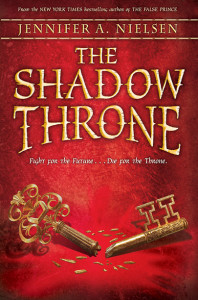 Today is the final quote from THE SHADOW THRONE. Why the final one? Because the book releases tomorrow! If you're in regions served by the UK, then it releases on March 1. Foreign language copies will release at various times.
I'm warning you now…unless you are getting a copy very soon, you won't want to read this quote. Seriously. So stop here….unless…well, you know.
From Jaron:
"The blame for the destruction of my country lay solely               at my feet. And I had no will to make any of it better."
If you're in Utah, the launch party will be on Tuesday evening (Feb 25th) at The King's English (1511 South 1500 East) in Salt Lake City at 7 pm. There are rumors of cake!
If you want a signed copy, you can order it (or any of my books) from The King's English by 7 pm tomorrow and they will ship it out to you. Just put the name you want personalized in the comments section during checkout. You can see more about that here.
I will also be at Barnes & Noble South Towne on Sat Mar 1 from 1-4 pm for an authorpalooza, along with dozens of your favorite local authors!