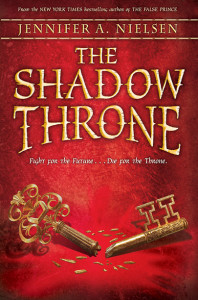 I have exciting news!
No…not movie news (it may be another year before there's news here.)
No…not that announcement I promised you (It's still coming.)
But…
THE SHADOW THRONE hit two huge milestones today.
It will be at #7 on the Mar 16 NYT Series Bestselling list! What is the significance of this? The series list measures sales for an entire series of book, not just the single title. Thus it measures the strength of all books. Getting onto the series list means competing with titles such as Percy Jackson, Divergent, and Diary of a Wimpy Kid.
And…
It will also hit at #114 for USA Today's Bestselling list! I know that doesn't sound like the most impressive number, but this list measures all books sold in this country, not just children's titles. Which means last week, it was the 114th top selling of all books.
Due to higher than expected demand, the book is already going to its second printing.
And who I have to thank? Why, you! Those who bought books, or asked your library to get a copy, or recommended the book to other readers. Thank you, thank you. Getting to add these titles to my name is an honor for me, but an achievement by you. From the bottom of my heart, I thank you.