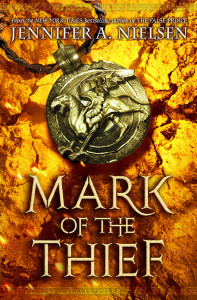 Congratulations to those who've won an arc of MARK OF THE THIEF! There were several hundred entries, and I wish I had more arcs to give away in this round…but, I was so impressed with what you all wrote and some of the cool facts you uncovered, I decided to add two more for an even TEN. There will be more opportunities to win over the next several weeks, and if all else fails, the book will be released in only two more months (Feb 24).
If your name is below, then please send me an email with your mailing address and the name you would like the book inscribed to (or signature only, if you prefer). My email is jen at jennielsen dot com.
Dana Simonson
Jaina (Twitter: @dpeter4389)
Joziah
Christianna Stavridi
Stacey Trombley
Sissy Gifford
Adam
Traci Ann Borja
Nate Tria
Jen Larkin
Finally, how about another excerpt from the book? Here, Nic has been forced to fight in the venatio, the animal hunt, in the amphitheater (Colosseum).
"Bestiarius, bestiarius," the audience chanted. He was the hunter, and I assumed he must've just entered the arena. A knot formed in my throat. My life had been in danger many times before, from the risks I was forced to take at the mines, and from Sal's punishments, but nothing like this. For the first time ever, I was prey.