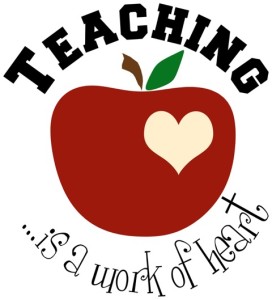 Back in ancient days when I was in school, the students were intended to learn their ABC's during kindergarten. Only their ABCs, nothing more. Which was fine, except that thanks to my older brother, I entered kindergarten already reading. My teacher wasn't super comfortable with that. She was from the old school and wasn't sure exactly what to do with me. So she did the logical thing, and asked me to only look at the pictures.
Being the 5-year-old rebel that I was, I started "sneak reading" – making it look as if my eyes were on the pictures when in fact, I was secretly reading. (I should also note that I refused to nap during nap time. Yeah, I was that kid.)
In 1st grade, I had Mrs. Flores for a teacher. She immediately embraced me as a reader, even though it often required her to do extra work to find material suited for me. Because of her efforts, my reading skills skyrocketed in 1st grade. My love for Mrs. Flores grew even faster. Still to this day, I remember what it was like to have her hand me a book and say, "I know you will love this one."
The first book of MARK OF THE THIEF is dedicated to Mrs. Flores. The other two books of the series will be dedicated to other teachers who influenced me. And why? Because the fact is, I would not be where I am today without my teachers.

So, it is a privilege to be part of the Authors Love Teachers giveaway. The one lucky winner will receive a signed copy of every single book below. Most of these are new releases. If you're interested (and why wouldn't you be?), there is a YA giveaway too, which you can find here.
How to enter:
1. Leave a comment on Lynda Mullaly Hunt's blog about anything book-related, kid-related, or whatever related. Seriously, just leave any comment. If you want to leave it here instead, I'll forward those comments on to her.
2. Share or RT about the contest on Twitter with the hashtag #MGAuthorsLoveTeachers. This is how we'll find your entry! Make sure to link to a participating author's post.
Here are the rules:
1. The contest begins now and will end on Wed Feb 18th at 11:59 pm EST. The winner will be announced on Lynda Mullaly Hunt's blog on February 19.
2. The contest is open to teachers and librarians only (we love all our readers, but…). Therefore, if you win, you must provide your school's mailing address to receive your prizes, and be employed at that school.
3. Books will be mailed to you separately by all participating authors. Please be aware that some books are not yet released, so they may take a little longer to arrive.
Remember that the whole purpose of this contest is to let you as teachers and librarians know how very much we love you! We are all the product of great educators, and now our careers are intertwined with you in the great purpose of helping kids learn to love reading! Thank you for what you do, and good luck in the contest!