Teen Read Week goes from Oct 13 – 19. Are you ready? Whether you're a teen or not, here are five things you can do this week: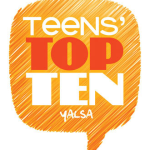 1. Read. Well…duh, right?
2. Recommend a favorite book to your friend. If you're encouraging others to read a great book, then peer pressure is great!
3. Go to the library, especially if your library is participating in the event.
4. Talk to your English teacher about Teen Read Week. Spread awareness!
5. Go HERE and vote for your favorite book off the list. (If The False Prince happens to be that book, then great, please vote – but there are other amazing ones too). And yes, in response to a question I've been asked a few times, you can vote more than once. The winners will be announced on October 22nd. To those who have already voted, thank you!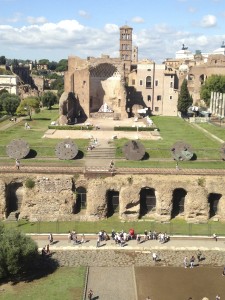 Also, in a completely unrelated thread, I've got a few emails asking what I'm doing right now. Here's the answer: I've been traveling a lot, to Houston, Boise, and Denver in the last couple of weeks alone, and next month I will also be in Los Angeles and Boston (though there may not be any public events). I also recently got back from Rome where I did research for my next series.
The picture to your left is one I took from on top of the Colosseum looking down onto the Roman Forum – the center of all life in Ancient Rome. It may not look like much now, but two thousand years ago, this place was rockin'!
I'm now writing that new series, The Praetor War, with an escaped slave, stolen magic, and a fight to stop the fall of Ancient Rome. I'm about 20,000 words into my first draft.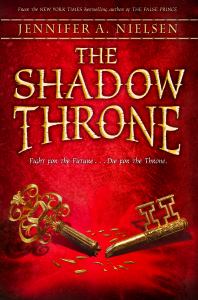 My next book to release is Infinity Ring 6: Behind Enemy Lines (more about that soon). The third book of the Ascendance Trilogy, The Shadow Throne, will release on February 25, 2014. Pre-order now from your favorite local bookstore.
There's no movie news. Sorry. Also, there's nothing yet I can tell you about The Shadow Throne.
And yes, I will have advance copies of The Shadow Throne available in December. There will be a giveaway contest on this blog. If you want a chance for a copy, be sure to check in then!
Thank you all for reading, following the blog, and for contacting me either via comments here, Facebook, email, or with snail mail. I appreciate you very much!