RISE OF THE WOLF has been released! I love this book, and I'm so excited for you all to read it!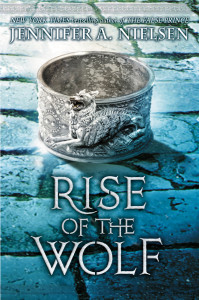 Here's the Goodreads summary: Nic may have escaped enslavement in the mines outside of Rome, but his troubles are far from over. The Praetor War–the battle to destroy Rome from within–is in full force, and Nic is caught in the crossfire. The secretive Praetors are determined to unlock a powerful amulet–one sure to bring the empire to its knees. Worse, the Praetors believe Nic holds the key to finding this amulet, and they will stop at nothing to steal it, even if that means harming the people Nic holds most dear.
When the Praetors capture Nic's mother, Nic knows he must do anything to save her. He challenges the Praetors to a chariot race. If he wins, they will release his mother. But if he loses, he must hand over a magic that will certainly destroy Rome and end his own life. Can Nic once again harness his magic and gather the strength to defeat his enemies? Or will he lose his mother and bear witness to Rome's destruction?
I really think you're going to love this one – it's dangerous and funny, has some great chariot racing scenes, and a few surprises I don't think you'll expect!
You need to have read Book 1, MARK OF THE THIEF, before starting into this one. But if you're ready for this book, you can ask your local librarian to get a copy or pick up your own copy in most places where you buy books (if they don't have it – ask them to order it for you!). If you want to find it online, here are some places you can try:
Also, from last week's final ARC giveaway, the winner today is:
Aaron Cleaveley
That's all the giveaways for now, but watch later this summer for ARC giveaways of my fall book, THE SCOURGE.