Guys, it's today! MARK OF THE THIEF launches into the world and I can't wait to hear what you think of it! Let me share two final quotes from this book, which show how Nic begins to change his perception of himself.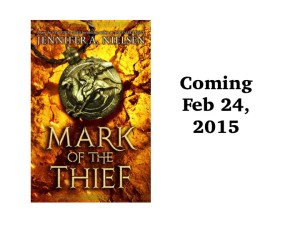 The first is shortly after he gets magic and something he is told by his master, Felix:
I'm nobody. Just a slave—"
"A slave who happens to be holding the most powerful magic the empire has seen since the days of Julius Caesar! And you're right, Nic. You are nobody to this land. No one will fight a war to save you. No one will care if you fall. And if the enemies of this land surround you, even with that bulla, you will have no chance against them on your own."
And then a few days later, after Nic and Aurelia escape an attack from General Radulf:
My mouth literally fell open. Either she was evil or completely insane because I was pretty sure I had just proven how difficult it would be to force me to do anything. That said, when I stood, my legs were wobbly and Aurelia came closer to assist me. Before she could, I locked my knees and turned away. Every time she helped me, my situation got worse, which was no small accomplishment since it had started out pretty close to the bottom.
"You walk like you have two broken legs," Aurelia said. "How are you going to run from me if you can't walk?"
"I'm not going to run," I said. "But I won't obey you either. I'll never have a master again."
As I said, I so hope you will all love this book as much as I do!
So where can you buy it? If you have an indie bookstore nearby, that's the place to start. If you don't, and you want a signed copy, you can order it from The King's English Bookshop. When you're almost ready to checkout, there's a space for Notes. That's where you can write who you want the book personalized to. I'll sign it and they'll ship it.
If you'd rather order your copy online, here are other options:
And, as a completely unrelated note, but because I know you'll ask, no sorry, I have no movie news yet. Fingers remain crossed though!